If your business has a phone system with a hold button and you are not leveraging what opportunities it could unleash for your customers, let's discuss.
For nearly two decades, Onhold Studio has been creating bespoke on hold messages! We've seen the rise of the internet, smartphones, and so much more in that time. When we first started making on hold messages, many systems were still using CDs or looped cassettes to broadcast their messages.
Much has changed since then, with today's modern VoIP phone systems, making updates to your on hold marketing messages is a doddle. Simply switch out the old MP3 or WAV file for your updated file, press save, and you're all done.
A good telephone on hold message will keep your callers entertained, informed, and will give your company a well-deserved and often sought-after professional image!
That's where Onhold Studio comes in. We can liaise with your marketing department to create an on hold marketing strategy that matches your current seasonal marketing, or we can use your website or other marketing materials to craft a bespoke message that is upbeat, relevant and engaging.
This month, all Onhold Studio partner clients that are not using on hold messages, are welcome to request a free enhanced on hold demo. And, if you'd like to go ahead with our services, you can purchase the demo for use on your phone system for just a discounted fee.
Need some inspiration?
We hope this has given you some inspiration. But if you need more, fill in our Free Demo form and we'll send over audio examples from your industry and a bespoke audio sample to share with your team.
You rarely get a second chance to make a first impression, we can help you make that first impression count.
About us and this blog
Onhold Studio has been developing custom on hold audio messages for almost two decades! We specialise in audio marketing for both VoIP and conventional telephone systems. Our team can handle every step of the process for you, whether you need music or on hold messaging, call menu options, or out-of-hours audio messages.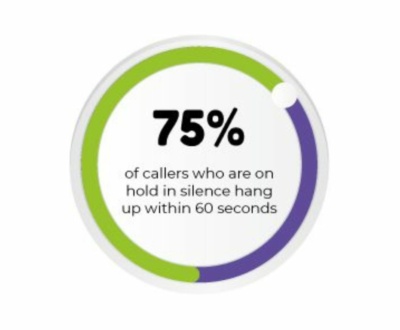 Increase your caller retention by putting your callers on hold. 75% of…