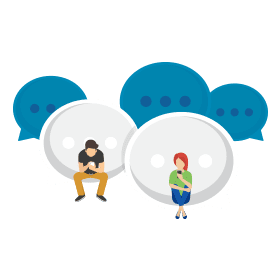 On Hold Messages
Your callers will learn more about your products and services whilst losing their perception of time
We provide bespoke on hold messages, more and more business is conducted over the phone all the time so it's important you're presented in the most professional and courteous manner possible.
You should never consider putting a caller on hold as a bad move. This is your opportunity to continue informing your caller of important and interesting information about your business.
At Onhold Studio™, we cater for businesses that require call menu option messages. We can create and produce any and all customised call menu options for you.
Why should you consider on hold messages?
You are considering putting a property on the market and you give an estate agent a call.
Your call is answered and while being transferred to the relevant department you hear on hold messages. Whilst waiting their on hold message is informing you about the options available to you, from how your property will be advertised through to information about a free market appraisal on your property, followed by a great mortgage deal that is currently available.
Aren't these on hold messages a lot better than being left in silence or just listening to the radio? Rather than being frustrated about waiting you're being told exactly what you need to know. This saves both the caller and the business time all while increasing the likelihood of a successful deal.
About our on hold messages
We can create tailored on hold messages for you. Using the information you want to convey, the products and services you want to showcase, and the deals and offers you want to promote. We offer a totally customisable and collaborative service, which combines the knowledge you have of your business and industry and our specialist expertise.
To get a better idea of what we're about you can listen to some examples of on hold messages we've produced below.
94% of marketing budgets are spent on attaining calls
88% of callers prefer on hold messages to any other option
70% of callers hang up after 30 seconds of silence
34% of callers who hang up due to silence will not call back
25% of callers stay longer due to on hold messaging
20% of businesses sales increased with on hold messages
Tell us about your project
Whatever your requirements we've got a solution for you
If you have a question or want to know more information about our services please contact our team using the form.
After searching the internet for on hold services, we finally found the really friendly and professional team at Onhold Studio who were very quick to respond to my enquiry. They have been very helpful and prompt with resolving any questions and issues.
Sara Holmes
PR & Marketing
I felt it imperative that I tell you of the exceptional service we receive from Steve and Rob. They are always so friendly, cheerful and efficient; a rare combination. I did not want to let this opportunity pass in these uncertain times to let you know how impressed I am with their enthusiasm, and your services. Onhold Studio have gone the extra mile to ensure our on hold marketing marries with our brand. With little instruction, they have been able to suggest and craft the best way to market our brand. As a result, they have produced a product that we are proud of and our customers are enchanted by. Wesley Ephson
Managing Director