Our close-knit team of web design and development specialists work closely with our clients to bring the digital vision of their brand to life. We've designed and developed websites for a wide variety of sectors and industries, both in the Liverpool City Region and Europe, for over a decade.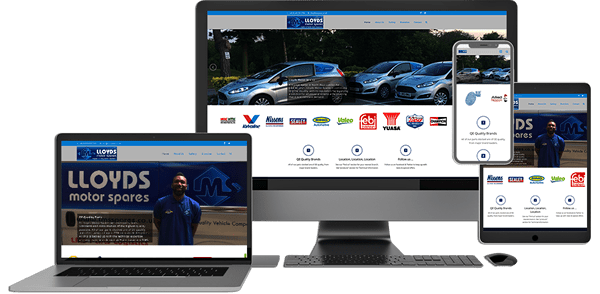 Lloyds Motor Spares
Lloyds Motor Spares already had a website advertising the services they could provide, however the website hadn't been updated since it's creation and was lagging behind in terms of aesthetic, and function. We took the content and images from their current website and installed a fresh theme to bring everything to a modern standard.
Talking Life
Talking Life has an extensive portfolio of training courses which meets the requirements of different private and public sector needs. This involved the creation of an online catalogue of their courses, with the option to make enquiries and payments for select 'Open Access' courses, this would involve an element of e-commerce facility.
We take pride and care in every website we create. Take a look at of some of our recent reviews from clients that agree. Our mission is to be clear and honest about pricing, provide a prompt and efficient service, give high quality advice and above all help your business grow with an amazing website.
I just wanted to let you know how pleased Lyjon are with the both the website and video production you have created for us, the results have been excellent and we have seen a good return on our investment and lots of positive comments from our clients.
We needed a lot of help getting our online store up and running. It was a big job but Onhold Studio were up to the task. A lot of meetings, phone calls and emails were required but they were always happy to oblige and their communication with us was first class.
We have been searching to find the right partner for sometime to help us with producing an on hold message for our phone system and also updating our website which it was sad to say was very much in the past.
The whole process was very well run, issues and queries were very quickly followed up and resolved and I am very happy with the website. A special thanks to Amelia for all the hard work and patience in getting this project completed so quickly.
We have been extremely lucky to have worked on website designs for incredible clients across a very diverse range of industries. This has given us the opportunity to really stretch our imaginations into new creative spaces and then push our technical skills to enhance the user experience. This has resulted in beautiful, bespoke websites that perfectly and uniquely represent the business of each of our clients.