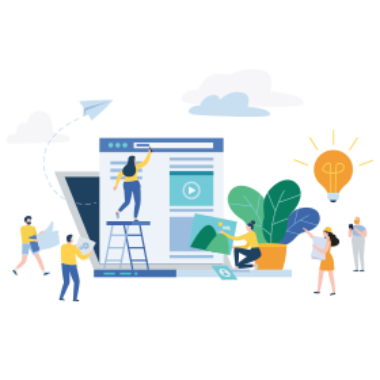 LinkedIn Page Management
Lead generation, brand awareness, and increasing website traffic
LinkedIn is the largest social networking platform for professionals. LinkedIn can be used for lead generation, brand awareness, and increasing website traffic. We can incorporate LinkedIn into a client's marketing campaign and can also offer consultancy with a client's in-house marketing team.
Social Media Account Set Up
Just starting out? No problem, we can help with account set up from scratch. A business page, a vanity URL, even banners and posts to start building your audience.
Scheduled Posting
As part of our ongoing management, we schedule posts for you as often as agreed, monitoring engagement to ensure we are posting at the best times, and to the best audience.
Brand Monitoring
Engagement is key with social marketing, so we'll track your mentions, and engage with your customers to ensure your online image is always the best it can be.
Graphic Asset Design
Creating a strong visual representation through social media isn't as easy as posting a picture or a meme. However, there's more to social media asset design than meets the eye.
Customer Relations
Working with your team, we can reply to customers, clientele and patrons for minor enquiries such as questions about opening hours, special promotions or replying to reviews.
Advertising Campaigns
We can set up, monitor and run advertising campaigns on your behalf, only using the budget that you have specified and targeting the customers you want to reach whether local or national.
Tell us about your project
Whatever your requirements we've got a solution for you
If you have a question or want to know more information about our services please contact our team using the form.
Fantastic Service from Start to finish. Amy was extremely helpful in advising on exactly what we needed and came up with a very reasonably priced package compared to other competitors. The whole turn around time was no more than 1 day after giving our final approval resulting in very professional voiceovers, emailed to us in a format of our choice. Aslam Khan
Office Manager
We have been searching to find the right partner for sometime to help us with producing an on hold message for our phone system and also updating our website which it was sad to say was very much in the past. Paul Middlicott
Branch Manager
Onhold Studio were brilliant with our requirements. They were really quick and efficient—quotation was done in less than one hour while the media files were sent to us in less than 48 hours! The end product was absolutely great, very impressed. We will use them again. They were a pleasure to do business with. Suzanna Harley
Digital & Data Marketing Executive
[zohoForms src=https://forms.zohopublic.com/onholdstudio/form/BottomofPageForm/formperma/wVx9UgpieE-I6rOdTSMbgkcmhwoUW9vHkCdclKzMJTA width=100% height=910px/]